A wedding invitation suite includes all of the paper goods that are sent with your invitation. You should be shopping for these items and ordering them about six to nine months before your wedding. What belongs in your invitation suite? Let's take a look.
Traditional
Invitations
Your invitation should include the names of who's hosting, the request to attend the wedding, the couple's names, date and time, location, reception information, and dress code. Double check to make sure all of this info is included! Send your invitation suite out 6-8 weeks before the wedding.
Inner Envelope
The inner envelope is slightly smaller than the outer envelope you will use to mail your invitation. On it, you will write the name(s) of the guests who are invited. This is where you can indicate that a guest may bring a plus-one and if the entire family is invited or only adults.
Response Card
Your RSVP card should have a place for the guests' names, number who will attend from the party, and the deadline for a response. Some response cards request a main-dish choice for the reception meal. Your response card must be accompanied by a stamped, self-addressed envelope so that your guests can fill it out and simply drop it in the mail.
Some couples are opting for online RSVPs via wedding websites or apps in lieu of cards.
Mailing Envelopes & Stamps
Obviously, you need something to put the stationery items in, so you'll need envelopes that are the correct size for your invitations and other elements that will be included.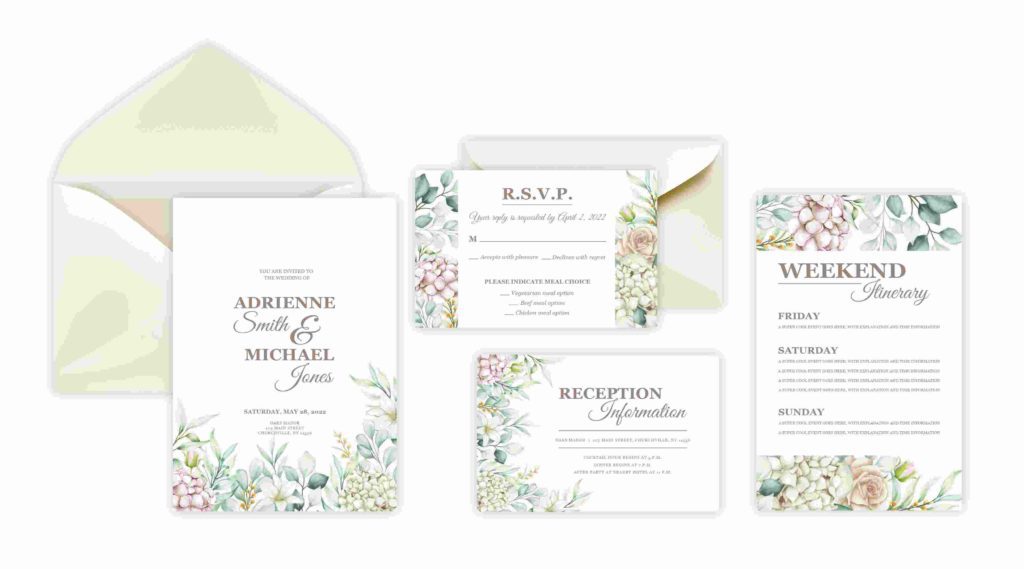 Optional
Reception Card
If your reception is being held at a different location than the ceremony, include a card with the name of the venue and directions from the ceremony.
Events Card
Some weddings, especially destination weddings, include several events over the course of a weekend. If this is what you're planning, include a brief itinerary for guests. They'll appreciate knowing what kinds of activities they need to plan and pack for.
Accommodations Card
Out-of-town guests will appreciate a card that details hotel options near the venue. If you are taking care of the accommodations, let your guests know on this card. Include information regarding transportation from the hotel to the venue, as well.
Additional Stationery Items
Save-the-Date Cards
While technically not part of your invitation suite, save-the-date cards are the first piece of wedding stationery you will need. These are usually in the form of postcards, but may also be printed on magnets to keep them from getting lost. Save-the-dates include the couple's names, wedding date, and location.
Send these out about six months before your wedding date so that guests have enough time to plan travel and accommodations.
Wedding Programs & More
If you want your programs to complement the style of your invitations, you may want to order them at the same time. Will you need menus for the reception tables? Place cards? Take care of all of these stationery needs at once to save time later.
Thank You Notes
Thank friends and family for attending your wedding and/or for their thoughtful gifts with a thank you note that matches your invitations. A recent trend features postcards with a wedding photo on it as a thank you note. Don't forget! Your thank-yous should go out no later than one month after your nuptials.
When you're ready to book your venue, call Oaks Manor at 585-468-6257 to schedule a tour of our banquet hall, mansion, and grounds. We look forward to celebrating with you!