Let's make what could be an aggravating part of your wedding planning into a pleasure. It's not easy choosing dresses for your bridesmaids that fit and flatter each person, but with a few tips from Oaks Manor, it might just be a pleasurable experience (or at least less difficult).
Be Considerate of Your Crew
Before you begin paging through bridal magazines, Pinterest boards, and websites, take a moment and think about the members of your bridal party. What kind of budget makes sense for the dress? As much as you hope they will wear the dress again, it's not very likely. Talk to each person privately to find out their budgetary expectations and do your best to shop in a range that won't be a financial hardship for anyone.
Dress Styles
Silhouette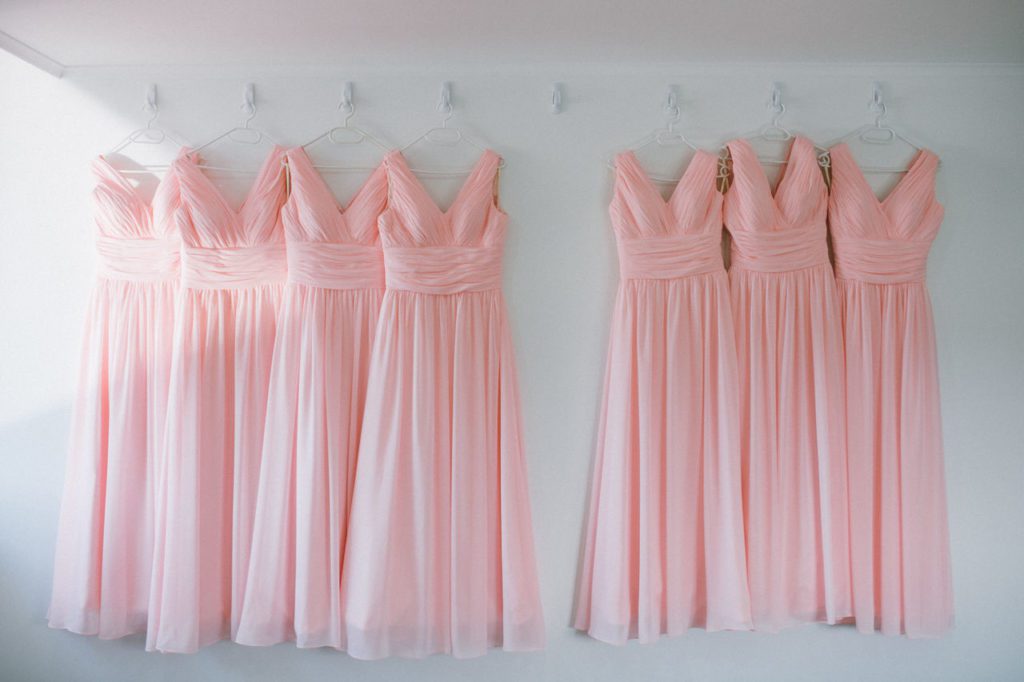 Your bridesmaids will each have their own preferences for silhouette, but there are very few styles that look great on everyone. Your maid of honor may want to feature her legs, but hide her tummy, and one of your bridesmaids may want something that hugs her every curve. What do you do?
An A-line dress with sleeves is universally flattering and a good choice if you want your attendants to wear matching dresses. A-line dresses are timeless — and they won't look dated when you revisit your wedding photos in a few years' time.
Color
Choose Your Hues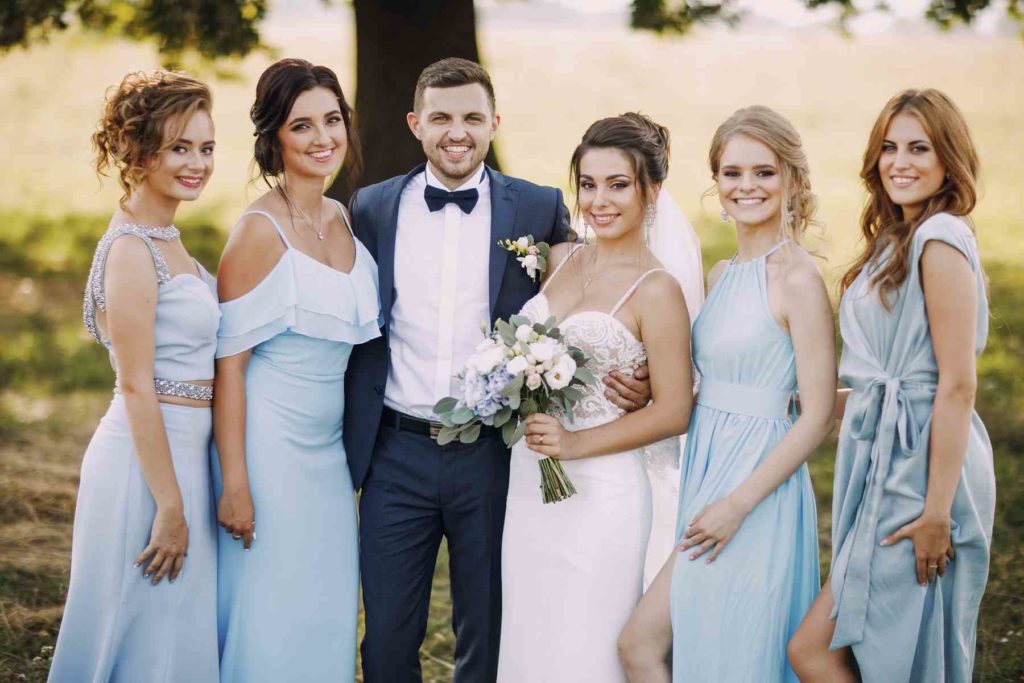 Bridesmaids' dresses come in any color you can imagine. Hues that look good on the widest variety of skin tones are eggplant, red, blush, and teal.
Some brides select a color and allow bridesmaids to each choose a flattering style dress in a shade of the chosen color. That way, each person is able to find a dress that they feel comfortable wearing with the color tying the bridal party look together. 
Little Black Dress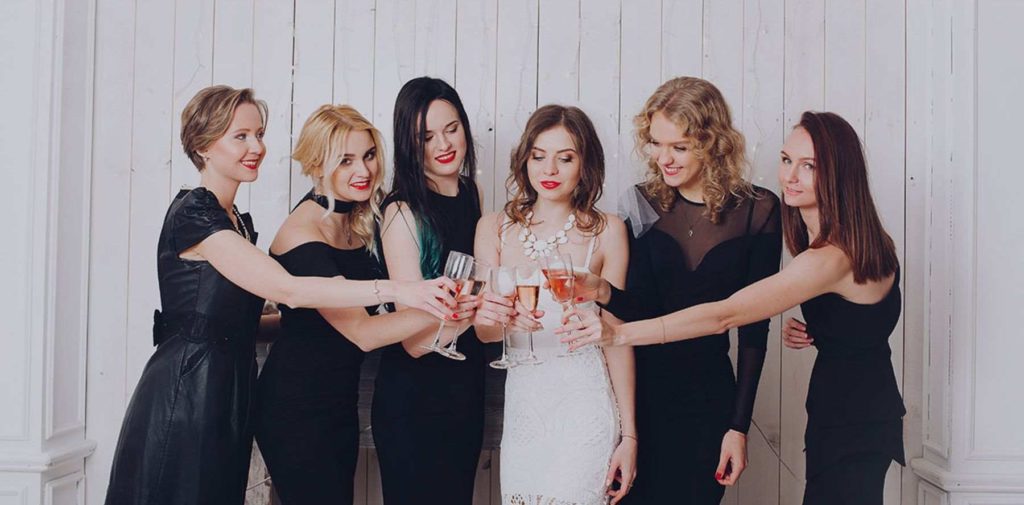 Can't find a color that is agreeable to everyone? Go for an LBD. Available in a multitude of styles, each bridesmaid can choose the little black dress that she feels most confident in.
Go Against the Rules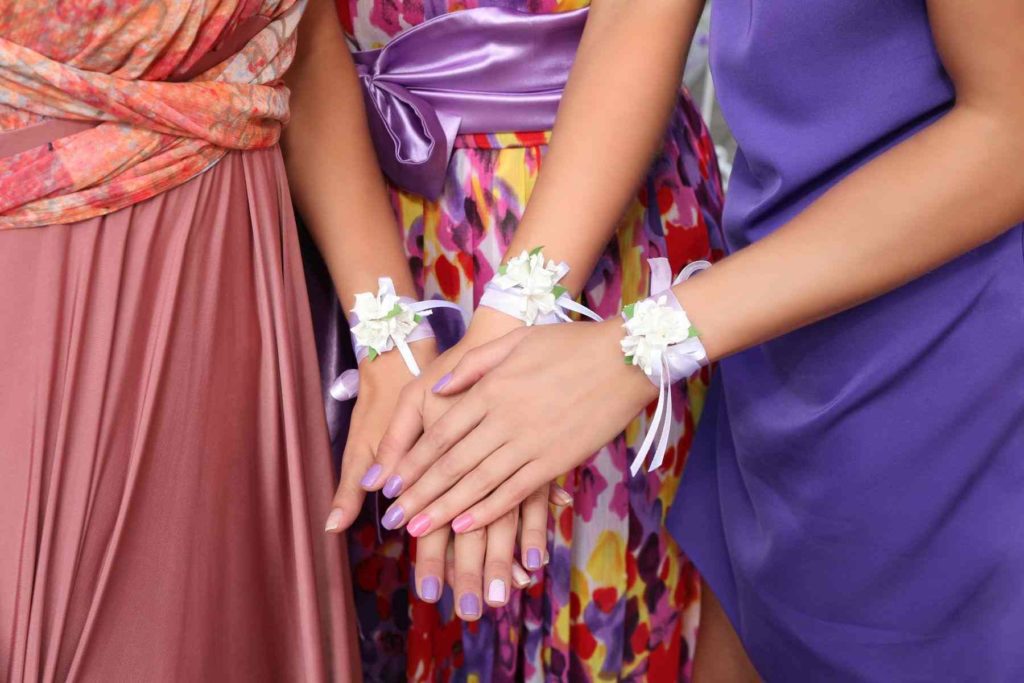 The latest trend for 2021 is to forget matching altogether. Give your attendants carte blanche or provide just a few guidelines, such as length or a color palette. The result will be dynamic and eclectic. Try this if you want your wedding to truly be one-of-a-kind.
Fashion Show
If you are the one choosing the dresses, try them on yourself. Check to see if the dress is flattering both in cut and color. Is it comfortable? Will your attendants be able to sit, walk, and dance comfortably? Once you find a dress that you would wear, it will be easier to convince everyone else that it's the best choice.
If the bridesmaids are choosing their own dresses, it would be wise to see them together before the big day to make sure you're happy with the way they look.
A Word on Matching Shoes
Don't insist on matching shoes. It's another expense on something your bridesmaids will probably never wear again. New shoes can be uncomfortable. Allow them to choose something neutral, black, or shiny that they already have. They'll thank you when they hit the dance floor blister-free!
As you delve into your wedding planning, remember that Oaks Manor specializes in weddings. Call us at 585-468-6257 today. We still have dates available for 2021!